Westech's contribution program targets schools and non-profit organizations. We do not donate to individuals.
Recent and current contributions:
US Representative David Schweikert visits Westech.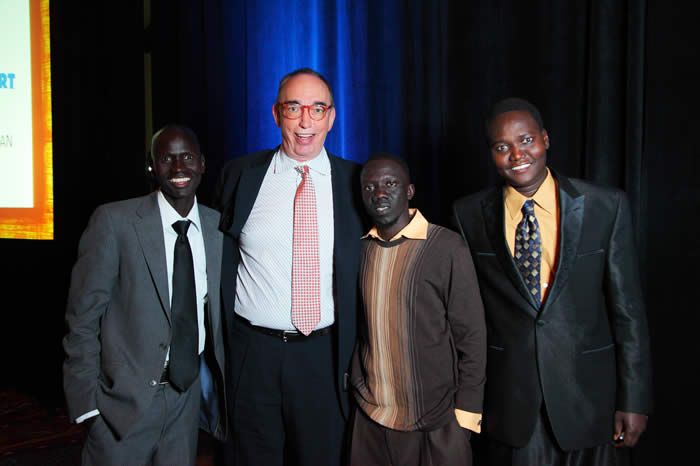 AZ Lost Boys Center
This is a picture of Earl from Westech at the February, 2011 dinner for the Lost Boys of Sudan. Westech employs two Sudanese refugees who are now legal American workers, and we support the Lost Boys of Sudan Center. At this dinner, Westech donated $3300 to the Center, and twelve of us from Westech enjoyed attending a great meal and event.
About Care Support for the Homebound
We donated computers to About Care for the Homebound an non-profit organization providing support for elderly and physically challenged homebound residents of Chandler and Gilbert.
Stuffed Animal Donation
Along with electronics we occasionally receive donations of stuffed animals. The staff at Westech has gathered them throughout the year and we have donated them to the Christian Liberty Center in El Mirage, AZ who has partnered with West Valley Fire Departments to distribute to under privileged children.
Computer Donations for Sonora, Mexico
Earl from Westech discusses future computer donations with Arizona Governor Brewer and Sonora Governor Padres Elias.
Special Olympics Computer Donation.
We donated 5 complete computer systems to Special Olympics' downtown Phoenix location.
Florence Baptist Academy
We donated 10 computers to Florence Baptist Academy.  The school was established in 2001with the idea that each child learn at their own pace.  Students are tested to see where they can achieve in their own learning ability and placed in a curriculum where they can make that achievement.
Canine Companions, Ltd.
We donated 6 computer systems to Canine Companions Ltd. A non-profit organization serving the paraplegic, blind, and elderly community whose main goal is to serve the elderly with protection, the paraplegic with assistance, and the blind by guiding them with the assistance of man's best friend.
Phoenix Day Center
We donated 3 computers to Phoenix Day Center.  The computers will be used by the Phoenix Day Non Profit (Central Park) in order for the youth to complete distance learning, academic tutoring, and other services an online network may afford them as most do not have access to a computer or internet at home.
St. Peter Mission School Donation
Westech Recyclers and Agate Steel, Inc. donated 2 computers to St. Peter Indian Mission School.
St. Peter Indian Mission School, located in Bapchule, AZ, provides education and support for local children and their families.
This learning facility which caters grades K-8, believes in educating the whole student: physically, intellectually, socially, spiritually, and culturally.
Opportunity, Community & Justice for Kids Computer Donation.
Westech Recyclers donated 10 computers to Opportunity, Community & Justice for Kids (OCJ Kids). OCJ Kids connects businesses, the faith community and individuals with foster kids in group homes by bridging the two communities together to equip these young people to be successful in every area of life.
Phoenix City Councilman Sal DiCiccio visited Westech.
Phoenix City Councilman Sal DiCiccio visited Westech.
Tom Holland and Earl Knudsen from Westech with Arizona Congressman Tom Forese and Phoenix City Councilman Sal DiCiccio.
Esperanca
Westech donated $5000 to Esperanca. Esperanca is a non-profit organization that provides hope for families in the poorest communities of the world through clean water projects, safe housing projects, disease prevention education and volunteer surgical missions.
Challenger Space Center
We donated 15 computers to the Challenger Space Center in Peoria. The Mission of the Challenger Space Center is to inspire, excite and educate people of all ages about the mysteries and wonders of space, science and the universe in which we live. The Challenger Learning Center of Arizona is a nonprofit organization, 501.c.3., providing vital science, technology, engineering, and math (STEM) programs to students primarily in grades K-8.
Sonoran Science Academy
We donated 20 computers to Sonoran Science cademy's 48th St. & McDowell campus and 28th St. & Osborn campus.  Sonoran Science Academy Schools are STEM focused, college preparatory schools with campuses in both Phoenix and Tucson.
Boys to Men, Arizona
We donated 3 computers to the Boys-to-Men Mentoring Network. This organization is committed to the development of boys into caring, truthful men with powerful missions in their life.
K's Training & Learning Center, LLC
We donated 8 computer systems to K's Training & Learning Center in Glendale. K's provides certified nursing assistant training.
Moctezuma, Sonora, Mexico
Citizens in Moctezuma, Sonora, Mexico hold a town meeting to accept our computer donation.  One of the children seated close to the computers gave a short speech expressing her appreciation and telling how they would use them in their schools.
Mesa Sister Cities
We donated 2 computer systems to Mesa Sister Cities in cooperation with Cox Communications.  These computers will benefit an orphanage in Guaymas, Mexico
Omega Schools
Omega Schools received 20 computers for both their Phoenix locations.